VENZA Wins Prestigious ASTD eLearning Excellence Award
(Alpharetta, GA – December 15, 2009) The Venza Group Received Top Honors at the American Society of Training & Development (ASTD) eLearning Excellence Awards Ceremony Held on December 10, 2009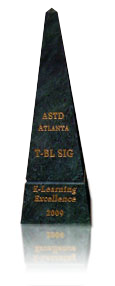 Hosted by the Technology-based Learning SIG of ASTD's Atlanta Chapter, the 4th annual event recognized 2009's best eLearning designs. This year nominees, eleven (11) in all, were spread across 4 categories. The Venza Group entry, a highly engaging modular course developed for InterContinental Hotels Group (IHG), was selected as the winner of the "Greater Than 100 Hours of Custom eLearning" category by the panel of distinguished judges. While announcing the award, the panel of industry-experts praised the Venza Group's creativity and technical innovation.
"We were delighted to be nominated for an award of this magnitude in the first place, but winning is a great honor indeed. The phenomenally talented team from IHG and the Venza Group who worked so hard on it deserves all of the credit," said Venza Group VP of Hospitality Rick Warner.
The following morning, moments after the joy of passing around the hefty marble trophy was shared by the Venza Group's eLearning designers and developers, the team ceremoniously shifted their attention to 2010.
About VENZA
VENZA is passionate about the development of technology and services that enable hotels to feel more secure concerning guest data breaches and human vulnerability. With decades of experience, VENZA has the knowledge and experience to empower hotels and their employees to tackle the dynamic cybercrime and guest security landscape.
Over 10,000 properties in over 100 countries look to the VENZA for tools, technology, and strategic security support. Founded in 2008, VENZA is a privately held company and headquartered in Roswell, GA. For more information, please call 770.685.6500 or visit www.VenzaGroup.com.