Direct Deposit
Employee Benefits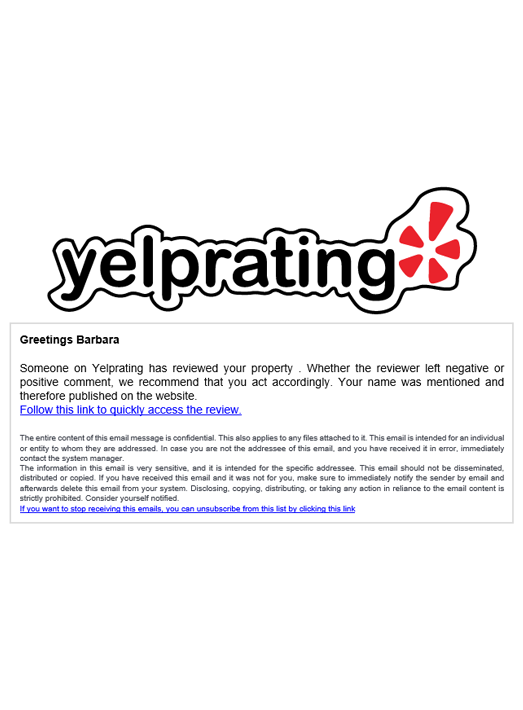 Employee Gift Certificate
Free Phishing Test Waiver
VENZA® thanks you for asking us to perform a 'phishing test' (the "
Test
") on your employees and your information security systems. Subject to the terms and conditions in this letter, VENZA will perform the Test, and the Test will involve VENZA sending 'phishing' emails to the employee and other email addresses you provide in an attempt to get recipients to respond to such emails. Within fifteen (15) days of the conclusion of the Test, VENZA will provide you with a report as to the number of recipients that responded to our 'phishing' email.In connection with the Test, you represent and warrant to VENZA that you have sufficient rights in and to the email accounts you provide for VENZA to perform the Test. You agree that you shall only provide to VENZA the email addresses and the first names of the people attached to specific email addresses that you want to be subject to the Test and you shall not provide to VENZA any other personal information related to such person. You further represent and warrant to VENZA that VENZA's provision of the Test shall not violate, or cause VENZA to violate, any applicable law or regulation or any right to privacy, express or implied, held by your employees or others for whom you provide an email address to us. You represent and warrant that you have sufficient power and authority to make and enter in to this letter agreement, both on your own behalf and on behalf of your employees and others for whom you have provided email addresses. You expressly approve VENZA performing the Test, and so direct VENZA to commence performance.
VENZA respects your privacy and the privacy of the email address records you provide to us, and we are committed to protecting them. VENZA has implemented measures designed to secure the information you provide to us in connection with the Test from accidental loss and from unauthorized access, use, alteration, and disclosure. In addition, VENZA will destroy the email address records (including first names) you provide to us for the Test no later than the ending date of the Test, as set forth above. Further, we will not sell, rent, disclose, provide or otherwise release those email address records to any third party, except to comply with any court order, law, or legal process, including to respond to any government or regulatory request. We will use the information you provide to us solely for performing the Test. In connection with the Test, VENZA will use commercially reasonable efforts to ensure that VENZA does not introduce directly into your systems any viruses, trojan horses, worms, logic bombs, or other material that is malicious or technologically harmful.
Each party shall indemnify, hold harmless, and defend the other party against any and all losses and damages that are incurred by such other party arising out of any third-party claim alleging: (i) material breach or non-fulfillment of any material covenant in this letter by the indemnifying party; (ii) any grossly negligent or more culpable act or omission of an indemnifying party in connection with the performance of its obligations under this letter. Notwithstanding anything to the contrary in this letter, the indemnifying party is not obligated to indemnify, hold harmless or defend the indemnified party against any claim (whether direct or indirect) if such claim or corresponding losses arise out of or result from, in whole or in part, the indemnified party's (i) gross negligence or more culpable act or omission (including recklessness or willful misconduct); or (ii) bad faith failure to comply with any of its obligations set forth in this letter.
IN NO EVENT SHALL VENZA BE LIABLE TO YOU OR ANY OF YOUR EMPLOYEES OR ANY OTHER THIRD PARTY FOR CONSEQUENTIAL, INDIRECT, INCIDENTAL, SPECIAL, EXEMPLARY, PUNITIVE OR ENHANCED DAMAGES, LOST PROFITS OR REVENUES OR DIMINUTION IN VALUE, ARISING OUT OF, OR RELATING TO, AND/OR IN CONNECTION WITH VENZA'S PERFORMANCE OF THE TEST HEREUNDER, REGARDLESS OF (A) WHETHER SUCH DAMAGES WERE FORESEEABLE, (B) WHETHER OR NOT YOU OR YOUR EMPLOYEES WERE ADVISED OF THE POSSIBILITY OF SUCH DAMAGES AND (C) THE LEGAL OR EQUITABLE THEORY (CONTRACT, TORT OR OTHERWISE) UPON WHICH THE CLAIM IS BASED. IN NO EVENT SHALL VENZA'S AGGREGATE LIABILITY ARISING OUT OF OR RELATED TO THIS LETTER AGREEMENT, WHETHER ARISING OUT OF OR RELATED TO BREACH OF CONTRACT, TORT (INCLUDING NEGLIGENCE) OR OTHERWISE, EXCEED $500. THE LIMITATION OF LIABILITY PROVISIONS SET FORTH HEREIN SHALL APPLY EVEN IF YOUR REMEDIES UNDER THIS LETTER AGREEMENT FAIL OF THEIR ESSENTIAL PURPOSE. Each party acknowledges and agrees that the parties entered into the LETTER Agreement in reliance upon the limitations of liability set forth in this Section, that the same reflect an allocation of risk between the parties (including the risk that a contract remedy may fail of its essential purpose and cause consequential loss), and that the same form an essential basis of the bargain between the parties.
You, for itself and for your employees, irrevocably waives, releases, discharges and covenants not to sue VENZA, its parents, subsidiaries or other affiliates, officers, agents or employees ("Releasees") from any and all liability, claims, demands, actions and causes of action of any kind or nature arising out of or related to any loss, damage or injury, that you or any of your employees may sustain resulting from the Test, regardless of whether such loss is caused by the negligence of the Releasees and regardless of whether such liability arises in tort, contract, strict liability or otherwise.
This letter agreement shall be construed according to the laws of the State of Georgia, without reference to a choice of laws principles to the contrary. The parties hereby irrevocably submit in any suit, action or proceeding arising out of or related to this letter agreement or any of the transactions contemplated hereby to the jurisdiction of the United States District Court for the Northern District of Georgia and the jurisdiction of any Court of the State of Georgia located in Atlanta, Georgia and waive any and all objections to jurisdiction that they may have under the laws of the State of Georgia or the United States. This letter agreement may be amended only by an instrument in writing signed by both parties. This letter agreement constitutes the entire agreement between the parties and supersedes all prior oral and written understandings between the parties with respect to the subject matter hereof. This letter may be executed in one or more counterparts, all of which taken together shall constitute one agreement. Each provision of this letter agreement shall be considered separable and if for any reason any provision or provisions hereof are determined to be invalid and contrary to any existing or future law, such invalidity shall not impair the operation or affect those portions of this letter agreement which are valid.
If the terms of this letter agreement are acceptable to you, please sign where indicated. Please contact me if you have any questions or to commence the Test.