The New Corporate Currency: Travel and Workplace Flexibility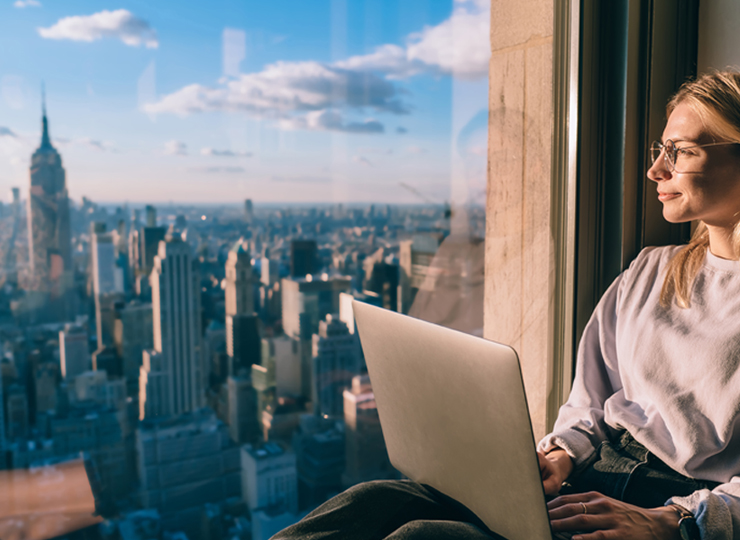 The path toward leadership is the road less traveled. Not because there aren't countless individuals eager and well-equipped to walk it, but because it's a path that cannot be walked alone. Sure, great ideas help. It's less about the idea and more about the people who bring it to life. In this respect, a crucial part of leadership is not only generating great ideas but bringing great people to the table, and more importantly, inspiring them to stay.
But how exactly does a leader do that? What inspires a workplace culture strong enough to sustain an organization against the perils of a highly competitive business environment, not least of which, one subject to high employee turnover? Furthermore, what does an exceptional company culture look like in a post-pandemic world? I believe there is a new corporate currency that may pay dividends to the organizations that deal it out to their teams: travel and workplace flexibility.
Embracing A More Flexible Format
Let's imagine a scenario that may have been yesterday's dream but has become a very real possibility. The air is cool, a gentle breeze slowly nudging the world around you awake as you take a sip of your coffee and look around. The morning sun streams down onto the street surrounding the cafe where you sit, your laptop open and waiting on the small bistro table. You smile as you hear the merchant at the corner calling out to a familiar passerby, making a mental note to visit him later that day as you make your way back to your villa. You open your inbox, scanning across your calendar as you formulate a plan for your day – first work, then the beach, then dinner with a local friend. Unlike the more traditional corporate experience of your generational predecessors, this is your reality – you can work from anywhere in the world, with just a laptop and a decent Wi-fi signal, and an unrelenting desire to explore the world around you. You love to work, but you also love to live, and, within this format, you can do both with ease.
Now, for perhaps the first time ever, the scenario detailed above feels within reach for many.. A corporate career is no longer synonymous with a 9 to 6 time-log at a singular location. And a "work-life balance" means more than the ability to leave at 4:30 PM once every few months for an appointment. The future of work – across industries – isn't any less challenging, competitive, or innovative but, in a post-pandemic world, the price of entry is flexibility and value-based business.
On the heels of global disruption, we must recognize that remote work is not only possible but, in some cases, better for employee satisfaction and retention. We've learned that flexibility is not the enemy of productivity but, rather, can act as a catalyst to the long-term engagement of a talent pool that is no longer defined by geographical restraints. Out of necessity, companies learned how to do more with less during the COVID-19 pandemic, shifting their focus away from corporate real estate to remote work, digital tools, and platforms for a virtual connection. And now? After an incredibly challenging and eye-opening year, the scale has tipped in favor of employees who often aren't willing to settle for a corporate environment that doesn't actively prioritize their experience and values.
Hospitality brands are, of course, no exception. Employee retention is a well-known hurdle that hoteliers must overcome as they look to rebuild and maintain strong teams of hospitality professionals. In the coming year, filling the void of furloughed staff will hinge predominantly on the exploration of new workplace policies. As a leader, it's crucial to recognize this shift to a more dynamic model and lead by example. The younger generation of workers may likely want to know that they are heard and understood. Professionally, they want to see their values reflected back to them at all levels of an organization. Formerly, any mention of "work-life balance" in a corporate setting inspired an eye roll. However, now, leaders must set the tone by actively participating in the culture. This is not only good for business – it serves as inspiration for talented staff members coming up the ranks who wish to follow the example displayed by leadership.
Leading by Example
It's almost ironic to mention travel and the pandemic in the same article. Travel, after all, has been off the table for much of the last year; exploring cultures and locations beyond those we already know has taken a temporary back seat. Meanwhile, we have grown accustomed to home offices and a daily barrage of Zoom calls and Slack notifications. Employees have postponed vacation time, and, for the most part, business leaders have remained firmly in place, unable to visit client offices.
But as a hospitality professional, specifically, I believe that travel is a vital part of one's professional legitimacy. Travel is not simply a novelty or a justified expense, nor is it an indication of an absentee leadership style. Instead, it directly informs the way hospitality leaders interact with both prospects as well as internal and external teams. I think any leader has a certain responsibility to expand their professional and personal horizons. It is imperative to better understand consumer tendencies, market trends, and ways of doing business. It is necessary to lead across cultures. After all, how can we expect to sell to, compete with, or work alongside others in a marketplace of which our understanding is limited? The more expansive (and more hands-on) our lens of understanding and experience, the better prepared we are to navigate murky waters and facilitate meaningful change within our organizations and external with the marketplace.
In simpler terms, I think we have a duty to immerse ourselves in the world in which we hope to do (and lead) business. We can, after all, better navigate the paths less traveled if we've traveled them ourselves.
Leading a Value-Driven Workforce
Unlike generations past, we realize a notable shift in the professional priorities of young talent (frequently, Millennial and Generation Z employees). With motivations and values expanding far beyond the confines of the conventional 9 to 6, this growing subset of the modern workforce wants to do more than punch in, punch out and collect a paycheck. The traditional Monday through Friday workweek is, for many, passe. Sure, wages, stability, and professional titles are important. l, however, I believe people also want to believe in the company they work for.
Millennials, who will represent 75% of the workforce by 2025, actively seek out brands they feel align with their personal and professional values; when considering a company, they want to see their own needs, hopes, and dreams reflected back at them. They are ambitious, just like previous generations. But their ambition takes on a different form. These employees demand corporate accountability and brand alignment with social causes. They place great emphasis on workplace culture and experiences and crave the ability to craft their own work-life style. Additionally, the 2019 Deloitte Global Millennial Survey found that travel and seeing the world was at the top of 57% of millennials' list of aspirations, while 46% were more attracted to making a positive impact in their communities or society than in having children and starting families (39%).
Now, perhaps more than ever, young professionals seek more control and flexibility over their careers. In the wake of the coronavirus pandemic, that trend is likely to continue. Companies can benefit from a global talent pool of qualified professionals, while employees demand continued opportunities to work remotely or have flexibility with regards to their vacation time.
From a leadership perspective, this shift in the traditional paradigm of work and corporate life demands that we take into consideration. The young professionals who will contribute to (and transform) their respective industries over the next decades seem to want to work for companies that afford them the flexibility to see the world while they make a living. They want to work for a brand that places travel and flexibility as a critical part of company culture. They want to work for leaders who prioritize many of the same values they hold and live a life that they, themselves, would aspire to live.
The post-pandemic world is ripe with opportunities to embrace travel once again or even lead the life of a digital nomad as companies extend their work-remote policies. While not every leader will traverse from office to office around the world every month, corporate leadership is expected to consider and embrace more flexible, non-traditional formats. Being a great leader in this new world requires one to actively engage in it. It is almost obligatory to make travel and the liberty to craft one's own work-life style a priority in a way that informs your own professional existence and continuously inspires and empowers your team.
You May Also Like:
What Hoteliers Can Learn From the Biggest Global Ransomware Attack on Record
Are Millennials Ready to be the Next Generation of Hospitality Readers?
Developing a People-First Approach To Mergers and Acquisitions
The Importance of And Training and On-Boarding Staff in a Post-Pandemic World
Why the Hospitality "Skills Gap" Has Become a "Skills Chasm" Due to COVID-19

Changing Rules for a Changing World: Why Doing Good is Now Very Good for Business