TRAVEL SAFETY (PT. 2 OF 2): HOW TO PROTECT YOURSELF WHILE YOU'RE AWAY
One of the best parts of traveling is exploring new places. Experiencing the sights, sounds, and smells can be fun and exciting. But with any journey, your outcome can be determined by how well you prepare. Taking precautions during your trip can not only ensure your safety but make your trip a much more enjoyable experience.
AT YOUR DESTINATION(S)
After you've settled in and stowed your luggage and belongings, you're probably going to be anxious to head out for your first adventure. Before you do, follow these steps:
Familiarize Yourself with Your New Surroundings
Be sure you know the name and location of where you're staying. I know – it sounds simple (and perhaps a little stupid) but if you're not staying at a chain hotel (with a globally recognized brand name) or if the name of your hotel is unusual, you may forget. It's also easy to get disoriented when you're in an unfamiliar place (especially if you're in a country where you don't speak the language).
To ensure you can find your way back to your hotel, do one of the following:
• Take a picture of the exterior of the hotel and the cross streets
• Take a picture of the hotel's business card making sure you have the name, address, and phone number; or
• Go "old school" and take a physical business card with you. Then, you won't have to worry about accessing your hotel information if your camera or cell phone battery dies.
And don't forget to take a good look around you and make a mental note of nearby landmarks.
Secure Your Valuables
Before you leave your hotel, be sure to secure your valuables. Many hotels provide room safes for guests. However, they are not always "safe". It turns out that if a guest cannot get into their safe for some reason, hotel employees can open the safe one of 3 ways: (1) with a master code. (2) with a master KEY, or (3) with a master magnetic card. And, if something is stolen out of your hotel room safe, the hotel is not liable.
Many hotels are removing room safes and are offering guests the option of using a safe deposit box located behind the front desk. If you decide to secure your valuables in one of the hotel's safe-deposit boxes and your valuables are stolen, the hotel will be liable for your loss.
If you choose to use the hotel room safe but you still don't feel comfortable leaving your valuables in your room, leave the "Do Not Disturb" sign on your door to give the appearance that the room is occupied.
Designated Meeting Spot
Traveling with others? Great! Having your spouse or best buddies with you can be a blast. However, there's always the chance that you'll get separated from each other, especially in a crowded place. Before you head out to explore, decide about what you'll do if you get separated from each other. Having a plan in place in advance can alleviate some of the panic that you may feel in a situation like this, allowing you to think and act more clearly.
Traveling Alone?
Solo travel definitely has its benefits. You do what you want when you want and go where you want without having to check with anyone else. Everyone needs a little "me time" once-in-a-while. However, solo travelers (especially women) can be easy targets for criminals. If you want some peace of mind, share your itinerary with a friend or loved one via phone, email, or IM before you leave your hotel. And don't tell strangers that you meet during your travels that you're traveling alone.
NAVIGATE THE SMART WAY
On Foot
Navigating a new place can be fun…and perhaps a little daunting. To help you find your way around, use your cell phone navigation instead of a physical map from your hotel or visitor's center. Walking around with a tourist map is a sure way to alert others (especially unsavory characters) that you're a tourist.
By Car
Renting a car when you travel gives you a lot of freedom. You can drive whichever route you choose and stop whenever you want or need to. However, unfamiliarity with your destination can be confusing and may result in you ending up in a seedy area.
To ensure that you don't get lost, install Waze on your phone before you go. It works wherever Google Maps works (I used it in Costa Rica!), alerts you of car accidents, speed cameras/traps, and more.
If you're visiting a foreign country and don't want to use an app, you can rent a GPS from the rental car company for an additional fee. If you choose this option in a country where you don't speak the language, be sure they set the GPS for a language that you speak before you drive off.
Ride-sharing Services
If you use a ride-sharing service such as Uber or Lyft, don't just hop into the car as soon as it pulls up. Before entering a vehicle, check the license plate number to make sure it matches the one shown in the app AND verify the driver's name (ask them their name, don't say "Are you John?"). If the license plate number and/or the driver's name the doesn't match what the ride-sharing app shows, do not get in the car. Ride-sharing scams are prevalent and tourists can be easy targets, so be cautious.
BE AWARE OF YOUR SURROUNDINGS
Avoid Crowds as Much as Possible
There's nothing wrong with checking out those historic monuments and popular tourist spots you've heard so much about and seen online. However, those crowded, busy spots are also popular places for pickpockets to hang out. Only take what you need such as cash, payment cards, and your mobile phone. And, of course, just be aware of your surroundings.
PROTECT YOUR PERSONAL INFORMATION
Using Public/Shared Computers
When you're having a great time on your trip, you'll probably want to share your experiences with your family and friends via email or on social media (maybe both). If you use a computer in your hotel's business center, be cautious.
• Don't access financial information or other sensitive personal information.
• Be sure to completely sign out of your email and other accounts you access (don't just click on the X in the top right corner; click on "Sign Out" or "Log Out").
Your Personal Computer(s)
If you're like me, you prefer to bring your own laptop, tablet, or other device with you when away. If you do, consider using a VPN (virtual private network) to protect yourself and your personal information. You can get usually get a VPN for a few dollars a month. Once you have a VPN, be sure to connect to it before you begin surfing the 'net.
Hotel Bill
Many hotels will slip your final receipt underneath your door so you have a record of your charges. When you check-in, ask the front desk person to make a note that your receipt is to be given to you in person (or via email if you prefer).
And last but definitely not least…
ALWAYS TRUST YOUR GUT
If you're uncomfortable with a person or situation, trust your instincts and remove yourself. There's no reason to take unnecessary risks. As the saying goes, better safe than sorry.
I hope you learned a few new ways to protect yourself and your personal information when you're away.
Do YOU take any special precautions when you travel?
Share in the comments below.
---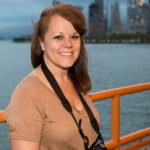 Amy Stark, aka A Traveling Broad, is a travel writer and photographer who grew up and lives in the Washington, DC metropolitan area. Through her blog, videos, social media accounts, she teaches aspiring travelers how to travel and explore without breaking the bank so they can start living the life they want to live – one that includes travel.